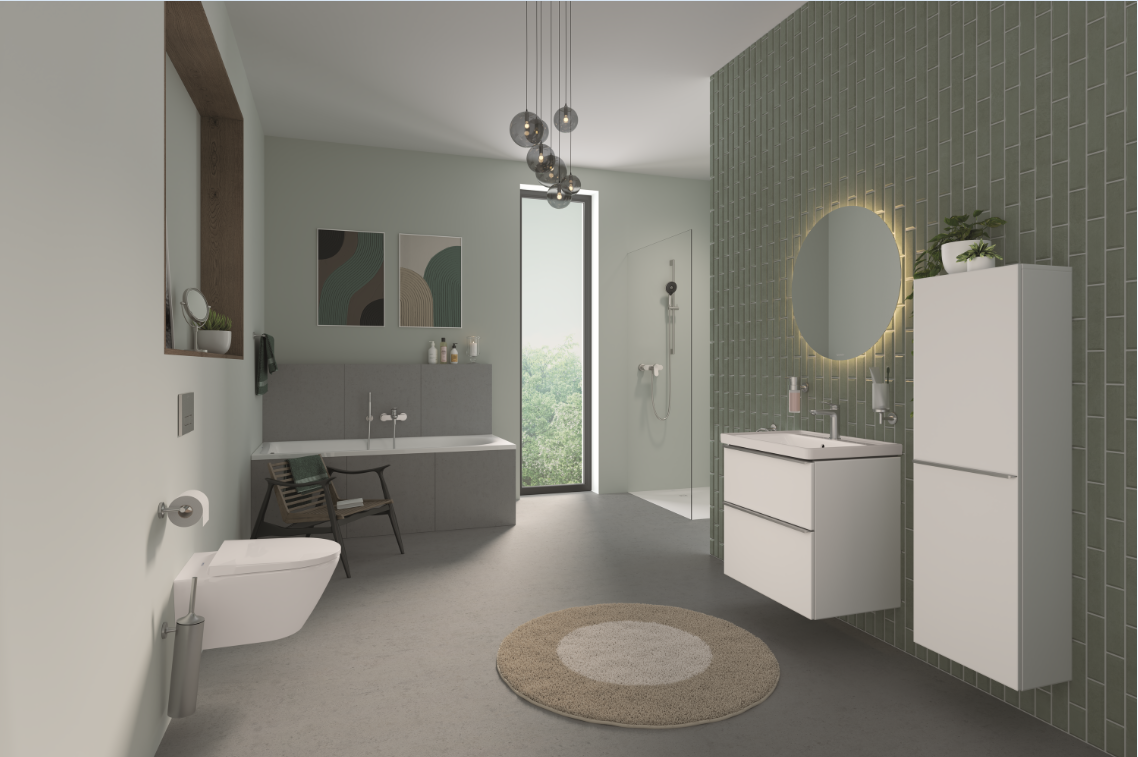 Introducing a range of options for individual bathroom design at an attractive price point
Three different design styles
A perfect match for individual interior designs
High-quality PVD surfaces on Wave (Brushed Stainless Steel, Brushed Bronze, Polished Gold)
The three new tap collections from Duravit – Wave, Circle, and Manhattan – enable additional design options in the bathroom. With these collections, Duravit has expanded its product portfolio with attractive designs and sophisticated metallic surfaces – Brushed Stainless Steel, Brushed Bronze, Polished Gold – to allow for greater interior design opportunities.
All three tap lines are attractively priced, and this wider range offers alternative combination options with Duravit's various ceramic series. In addition, they provide added value to architects and developers, with sustainable features such as FreshStart, MinusFlow, and EasyClean. Duravit Best Match, a proprietary configurator developed by Duravit, helps users select the best combination of tap and ceramic for each bathroom.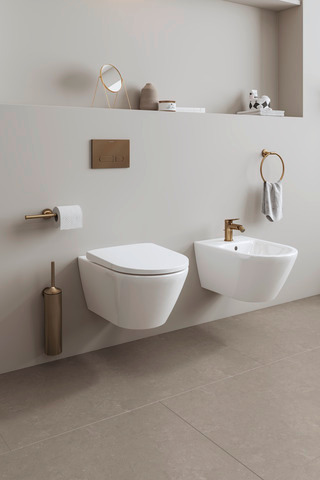 Functionality and sustainability
The washbasin taps are available in sizes S and M with the energy – and water-saving features MinusFlow (flow limited to 40% = 3.5 l/min) and FreshStart; cold water flows at the start and hot water is only added when the user deliberately moves the handle to the left. Thus, limiting the energy-intensive production of hot water to situations where it is needed.
The thermostat taps have HeatLock scald protection, and all the washbasin taps feature an EasyClean aerator, where dirt and limescale can be simply rubbed off the silicone nozzle with a finger. The new tap collections offer the highest standards of sustainability, and security as Duravit offers a five-year guarantee on all taps and a 15-year availability guarantee for spare parts.
Faucet applications for the whole bathroom 
There are three different spout heights for the washbasin mixers (S, M, and Highriser) offering different variants such as concealed mixer, three- holetap, and a pillar tap, to cater for different needs at the washbasin.
Wave, Circle and Manhattan also provides a tap solution for any installation scenario in other areas of the bathroom – bidet, shower and bathtub. For the shower area and bathtub, users can choose between single-lever mixers and thermostat taps as well as surface-mounted and flush-mounted solutions. The Wave and Circle ranges feature a rim-mounted tap fitting and the shower systems with showerhead and height-adjustable hand shower are practical full solutions, for retrofitting.
The Duravit BlueBox®, is a universal installation system for a range of tap designs (lever mixers or thermostats) and is used for concealed installation. This allows the design decision to be taken even after the basic set has been installed.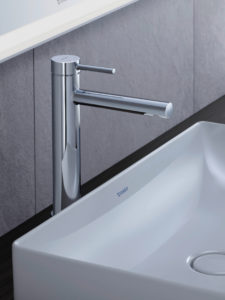 Wave – gently dynamic
Wave is a contemporary and youthful design style. The slim, cylindrical base undergoes a soft, flowing transition into the gently rounded spout, creating an exciting contrast with its precise edges. The dynamic upward-facing handle guarantees a simple and precise operation. Available in Chrome, Matt Black, and three additional scratch-resistant and durable PVD surfaces – Brushed Stainless Steel, Brushed Bronze, Polished Gold – Wave offers an attractive option for individual bathroom design.
Duravit offers the Starck T accessories as well as matching accessories from the whole portfolio as the perfect enhancement: showerheads, outlet fittings, furniture handles, actuator plates, and siphons are perfectly coordinated with the tap finishes and ensures a harmonious and stylish ambience in the room. For the first time, Duravit can offer an entire colour-coordinated bathroom fit-out with no compromises.
Circle – simplicity all round
Circle from Duravit represents a restrained and minimalistic approach to design that is an ideal match to modern bathroom ranges. The body, outlet, and handle are defined by the fundamental shape of the circle to form a harmonious whole. Details such as the reduction of the gap between the body and the handle to a minimum or the integrated aerator underpin the overall pared-down aesthetic. A practical side effect is that the rounded surfaces enable the water to flow away easily, making them particularly easy to clean in everyday use. The Circle range of taps is available in Chrome and creates a harmonious overall picture when combined with accessories of the D-Code series.
Manhattan – precise edges
The cube is the defining design element of the Manhattan range. The distinctive design language is characterized by precise lines and edges. These are emphasized by subtle reflections of light to create a high-quality aesthetic. Whilst spacious surfaces and precise transitions underpin the striking elegance that creates clean and contemporary interior designs. Available in Chrome and Matt Black, a wide range of design options is possible. The Karree accessories series is a suitable accompaniment to the design language.
For more information, please contact: Karen@espritmedia.co.uk